Green Feet on Concrete
Barbican x The Smalls
August, 2022
The Barbican Centre (London, UK) commissioned 3 directors to create 3 short films for their exhibition, Our Time On Earth. The Barbican partnered with The Smalls (a media agency) to call for creative responses from animation to documentary, scripted shorts to filming the arts.
The theme was to explore the ins-and-outs of the oft-used term sustainability; exploring what it now means and showcasing innovative ideas to create a healthier relationship with the rest of nature; the more disruptive the better.
Having won the grant, we leveraged our background in academia to produce an evidence-based storyline. We explored how to weave together an ultra-concise mythology of our environmental crisis, drawing from economic theorist Jeremy Rifkin, psychoanalyst Anja Stadelmann and historian of world religion Nancy Menning.
Our objectives were to create a highly aesthetic and heavily researched animation. Rather than using stock sites for footage and music, we planned to have everything original and beautifully produced.
An award-winning animation director Gabriella Marsh and graduate animator Yu Sunn, the highly regarded voice over artist Bhavnisha Parmar narrates us through a young human's transition towards a healthier relationship with the rest of Earth's community. The piece was accompanied with original scores and sound design by established cellist Henrik Meierkord.
The final piece won awards at film festivals:
Brussels Capital Film Festival - Best Green and Environment Film
Mannheim Arts and Film Festival - Best Animation
Golden Fern Film Awards - Best Animation
Virgin Springs CineFest - Outstanding Achievement Award
Big Ben International Film Awards - Animated Film
Big Ben International Film Awards - Short Film
Big Ben International Film Awards - Film on Nature / Environment / Wildlife
Royal Society of Video and Motion Picture - Film on Nature / Environment / Wildlife
The Barbican needed the film split into 3 episodes for social posts, but the film won as a single 3 min film in 16:9.
Our environmental footprint was significantly lower due to contributors working remotely. Travel and accommodation were therefore practically non-existent - both typically having the largest impact.
We were zero-waste and did not require much production equipment. The energy required for video calls and producing the assets were the largest contributing factors - creating the animatics and animation sequences, recording compositions, sound design, the voice over, and mixing and editing it all together.
We did not opt for accreditation and verification of emissions equivalences for a shoot this size. We worked out the usage below and doubled the total CO2 equivalent to be offset with Trees for Cities.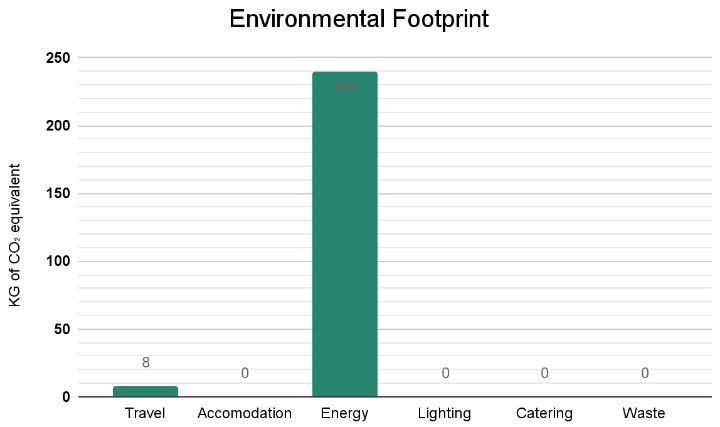 Last, but by no means least, we are always striving to improve our methods so do
get in touch
!